We're headed to New York City tonight! We've been invited by Steidl's amazing Marketing Director, Monika Condrea, to sign "The Golden Decade" at the D.A.P. and Steidl Booth 93. It will be Saturday, April 1, 4pm. https://aipadshow.com/Programs/Exhibitor-Hosted-Events
AIPAD http://www.aipad.com/?page=photographyshow stands for Association of International Photography Art Dealers.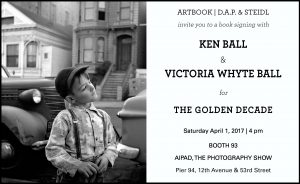 The collection of photos promises to be mind blowing as the dealers are from all over the world. We saw a tiny preview of the unmatched caliber of the photos when we were at Bonham's in LA for the book signing there. We plan to take lots of time on Friday, Saturday, and Sunday to browse through as many of the collections as we can.  I'm reminded of how our father used to take us to museums as children and as adults. I'll be thinking of him there for sure as he'd have relished the chance to go! Our whole family echoes this! It's a journey that Don set in motion and that is continuing!
We'll also be accompanied vicariously by Bill Heick, Ira Latour, Cameron Macauley, and Ben Chinn! Oh, How they'd have enjoyed seeing the fruit of their labor materialized at such an auspicious photo venue! They worked so hard and waited so long! We were all expecting to arrive here together. It's hard for us to have to go without them. We're happy that we get to do it of course, but it would have been sooo much more fun to get to go with them and see them shine! John Upton, Charles Wong, David Johnson, Stephen Goldstine, Gerald Ratto, Walter Stoy, and Stan Zrnich who are still living are not able to go. The photos of all the students really are so incredibly edifying and they stand in time and in their own place in photographic history. We couldn't have known we'd have to introduce the book without THEM! Life is so strange. . .
So please do check back Friday and Saturday nights as we should be able to post some photos to show what the show looks like. We're very excited to get to see Monika again and her partner Karine (who is a fine photographer in her own right and she's also publishing a book with Steidl!).
We'll be signing books after Mitch Epstein and  before Joel Sternfeld! Kind of Awesome! It's all thanks to Steidl~~~!
Talk to you soon! Much Love, Victoria & Ken