(We will keep this blog up-to-date while we're in NYC so stay tuned!  http://www.strandbooks.com/event/steidl-paper-dreams-saturday-launches-signings)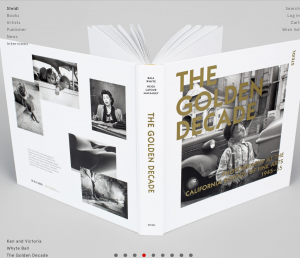 The Golden Decade is making its way onto the world stage. Again THANKS to Stephen Goldstine and John Upton for suggesting we send the manuscript to Gerhard Steidl in Göttingen, Germany. We have found the kindred spirit art photo lover in him and his whole amazing publishing house from top on down. It's something the other artists we've met there have also expressed. To whit they're working on other books just to be able to go back and experience it all over again!! MANY THANKS also to Victor Balko, one of the very fine designers at Steidl, who redesigned The Golden Decade. It models very well in its new look!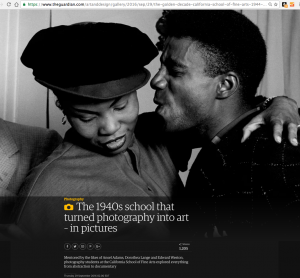 And in keeping with that last thought, we've subsequently had the extreme good fortune of being connected to Steidl's marketing network and to Monika Condrea, Steidl's very fine Director of Marketing and Communication, North America! She submitted The Golden Decade to The Guardian in London who then published a world-wide article about the BOOK! https://www.theguardian.com/artanddesign/gallery/2016/sep/29/the-golden-decade-california-school-of-fine-arts-1944-1955?CMP=share_btn_tw
1,205 shares (as of 10/22/16)!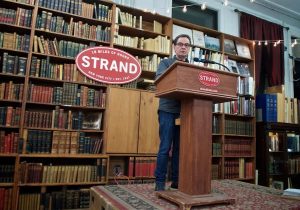 Now, the next development in the GD (Golden Decade) story, is that Gerhard Steidl is coming in person to NYC. During the week of October 26 Steidl will take over the Strand Book Store to present new books, stage talks and book signings. Monika invited us to come for a book signing, as incredibly, the GD is among them! https://steidl.de/
At first we thought it was completely out of the question for us to go. Then we reconsidered. I'm not really sure what made that shift. Perhaps it had something to do with my father, Don Whyte….I just kept thinking about the fact that he was born in New York City all those years ago (1911) and that there was a strong pull on me to go. That's all I can figure out to say on how to account for it. If it was from him I'm not sure. Maybe it has something to do with coming full circle, or full sphere, as one of my dear sisters Margaret says. And also, how many times will we be invited to The Strand Bookstore in NYC to sign a book? Whatever the reason, we're all set to go! Below is the information on The Steidl Strand Program that starts Wednesday with William Eggleston signing books 4-6pm. Please come to see us if you're in the vicinity on Saturday, Oct. 29 at 4:00-6:00!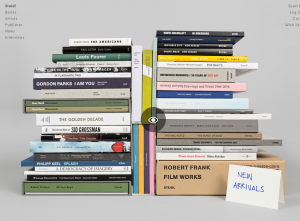 http://www.strandbooks.com/event/steidl-paper-dreams-saturday-launches-signings
PDF:
https://steidl.de/assets/mime/-UTQ3ZSycJSL2dxk5CGA9d5t,krzse9qih0iN62vvuEOj+4Sp/steidl-strand-program.pdf
Of course, this whole book project was sparked by us going through the contents of Don's darkroom after his death. Ken, an avid life-long photographer himself, had a strong connection with my father because of this. He became extremely curious when he recognized photos of Edward Weston, Ansel Adams, Minor White, Dorothea Lange, Imogen Cunningham and others among my father's photos. He asked me about them and I said yes, of course, we had lived down the street from Ansel Adams in San Francisco. And then the research began to try to find any of the students who might still be living so we could learn more about the photos. The last 15 years have been dedicated to these students, their photographs and their stories—and to rekindling a relationship with my father and his love for art and photography.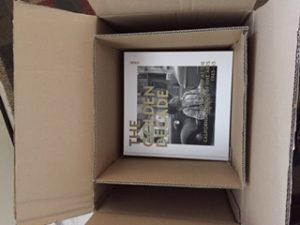 So read this blog so you can come along with us to NYC. We'll do out best to relay the Book Fair so you can enjoy it vicariously! We will be enjoying it thoroughly! Thanks!
PLEASE MARK YOUR CALENDARS for upcoming Golden Decade Events:
GERALD RATTO EXHIBITION, November 12, 1—6pm. And Golden Decade Book Signing. Smith Anderson North Gallery, San Anselmo http://smithandersennorth.com/exhibits/upcoming_exhibits.html/
20 Greenfield Ave. San Anselmo, CA 94960
GOLDEN DECADE EXHIBITION, February 4, 2017, Opening. Minnesota Street Projects, San Francisco, CA http://casemorekirkeby.com/
1275 Minnesota St, San Francisco, CA 94107
LAGUNA BEACH ART MUSEUM, February 2017, http://lagunaartmuseum.org/
307 Cliff Dr, Laguna Beach, CA 92651
—information to follow soon!
OK, we'll be in touch soon from NYC! All Best Wishes!
Victoria & Ken