It wasn't necessary to come to the Print Room super early today because Henry Leutwyler's book, "Objects," has to be printed first! Or at least the first side of his sheets. Then while that part is drying, the printers will go back to printing our book! Henry felt really bad about pushing us off the press, but since he had come all the way from Tokyo Steidl felt he should put his book on the press. And we will be here long enough to still finish ours. So there it is. We just had to wait. But to be honest, we had a wonderful time getting to know Henry and hear his stories. Maybe he was entertaining us because he felt bad, or maybe he's just fun –We think the latter! Henry gave us all kinds of ideas about where we could look for galleries for The Golden Decade. He had lots of nice things to say about the photographers' work in the book.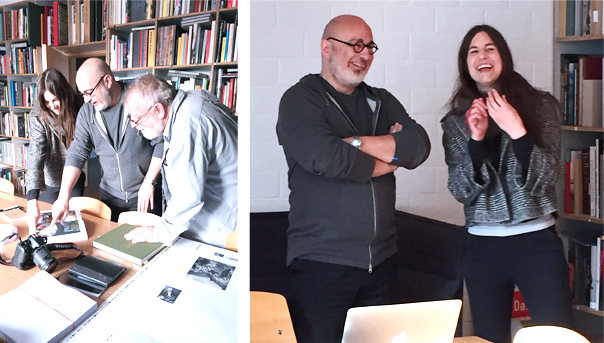 Since the printer Andreas told us that our book wouldn't go aback on the press until after 2 p.m., we decided to do a little shopping and walk around.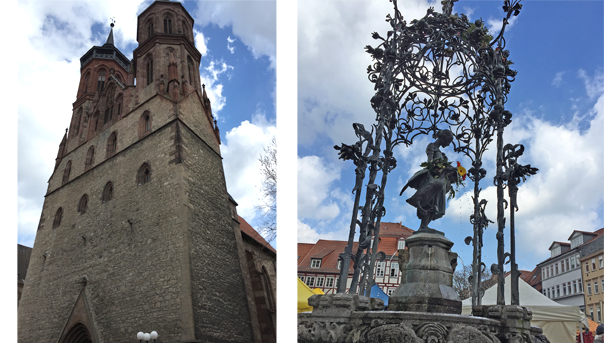 We got back at 1:30 just in time for lunch. Rudy served a super good salad of tomatoes and mozarella,  noodles with eggplant sauce and aged Parmasiano. The dessert was fresh berries and light yoghurt. We definitely high off the hog here! Except all the meals are extremely low in fat. Everything is organic and fresh. This is because of Rudi's meal planning and good taste. He also has a keen eye for beauty. He is also a photographer working on his craft.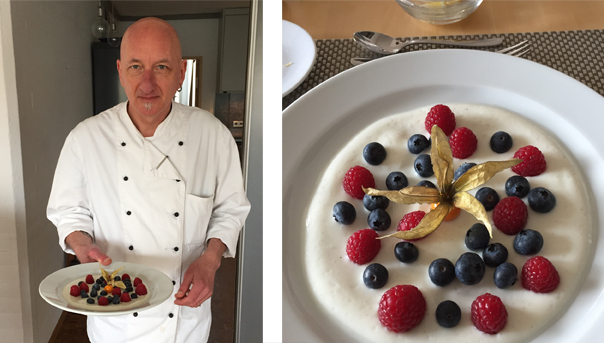 Right after lunch we got back on the press. In between press checks that occur about every 40 minutes, we visited the rest of the afternoon with Henry and then Robert Polidori came. The two of them together, being very old friends, are loads of fun with hilarious stories and observations! Heathe, who met us at the train last June, and Claudia who is in charge of press coverage, stopped by. When Henry and Polidori went off to dinner it was time to say Bye to Henry as he's leaving in the morning. It's amazing how you can make fast friends with some people in the course of a day! That's how it's been with Henry! And Polidori too!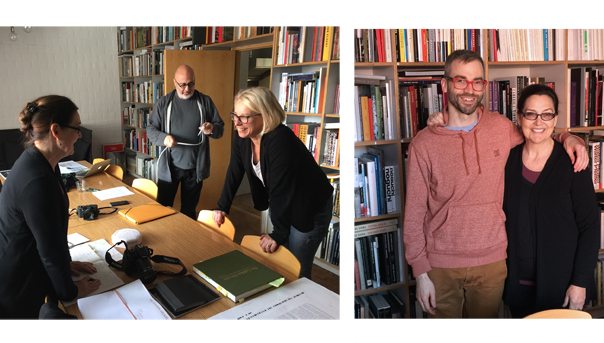 Now it's after 10:30 p.m. and the printers' night shift just changed. We're coming along well and should be finished printing by 9 a.m. tomorrow morning. We are excited to see the F&G's (folded and gathered) of the book by sometime tomorrow.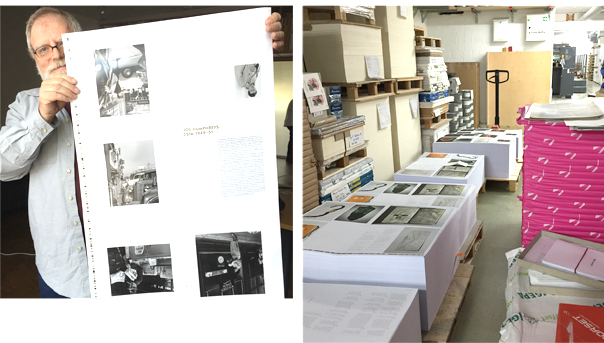 My dear brother and sister-in-law, Mike & Sue, are due to arrive from their home in Copenhagen by train in Göttingen 14:15. It was so nice of them to come while we were here printing the book. We will get to stay over night at Gebhard's Hotel, a very old family-run hotel inside the old city walls. Mike & Sue will leave the next day, Saturday, and so will we. They will go North to Copenhagen, and we will head South to Frankfurt. In Frankfurt we will stay overnight and then fly out to SFO the next morning. This is the last day for our blog as it will be too busy tomorrow. The first run of the GOLDEN DECADE BOOK will be completely printed by tomorrow and we will have a comp of the book to take home. It seems incredible to be saying this, but it's absolutely TRUE!
Much Love and Gratitude,
Ken & Victoria